At the Bottom of the screen, you'll find 4 tabs. on for each fonction.
One of those is "events".
Events show you all of the activities for one day. You'll find the summary and juste under a Time-Line.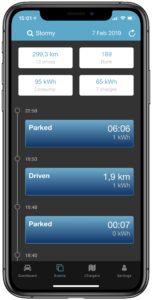 By clicking on the date, you can change and choose it. (Same thing for changing the car).
You could also choose one of these activities and see all of the details.
For exemple for a trip, you could have :
the map with your trip
Time on road
Distance
Speed average
Consumption average
Sliding the graphic, you'll find a lot of other information like :
power
Real time speed
battery level
battery charge
You have all of this information for Drive, Parking or Charge.
Try it and enjoy your trips