Last Tesla car to be released and one of the most awaited, the Tesla model 3 was delivered in France and Europe in february 2019. 
If we compare the model S and the model 3 against several criteria, the model S stands out on several points like :
performance: only 2,6 seconds to reach 100 km/h and 3,4 seconds for the model 3

autonomy: bigger for the model S up to 610 km and up to 560 for the model 3 

Free recharge to superchargers for the model S and not for the model 3 
According to the statistics of T4U for Tesla, model 3 takes shares on the model S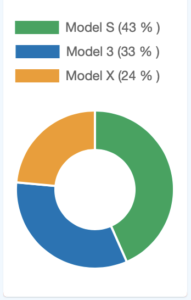 So what do you like about model 3 ? 
Since its presentation, the tesla model 3 has been a commercial success with 247 902 cars delivered between 1 july 2018 and the 30 june 2019.
The Tesla model 3 does not follow the line of the other 2 models (S and X) with a high-end positioning. While remaining in a premium range, it is marketed at a more affordable price. 
Smaller and lighter the model S, it still provides the significant comfort of an electric car. 
For this new model, Tesla has redesigned the interior of the vehicle with a clean and minimalist interior. There is no more key replaced by the smartphone, almost all of the controls are on the 15-inch center screen or there is no more door handle inside the car but a simple button. 
It stands out with a great autonomy of about 560 km for a small battery of only 75 KWH. It also allows a very fast recharge, up to 250 kw.
Whish a great success to this little model.