Do you really know T4U app ?

On the dashboard, you will fine a (i). On clicking on it, you access to some of your car's informations like the model or the odometer. The most interesting datas are the estimate battery capacity and range loss.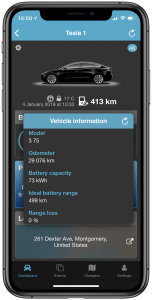 Those indicators are based on datas collected from TESLA servers and reprocessed by our algorithm. They are refine at each load so it is necessary to wait several days before obtaining a stable and weighted information.
We remind you that TESLA recommend not to overload 100% and to drive as soon as the total charge is complete. Also it is advisable not to leave his battery discharged too long, but you can configure an alert for this with T4U.
Here you can find a previous post about the average curve of loss of battery autonomy.
Have a good trip.